Lunch & Learn Speaker Series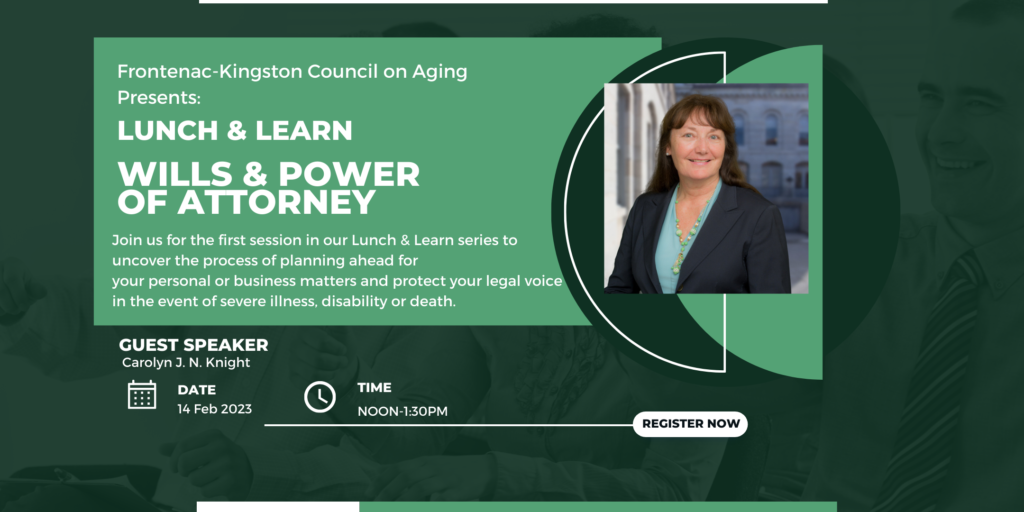 Topic: Wills & Power of Attorney
Speaker: Carolyn J. N. Knight of Viner, Kennedy, Frederick, Allan & Tobias LLP
When: Tuesday, February 14, 2023
Noon-1:30pm 
Where: Online
Cost: Free
To register, CLICK HERE

What:
Wills and Power of Attorney can be confusing, complicated, and uncomfortable topics for many people, but they are incredibly important.
This first session in our Lunch & Learn Series will cover a range of issues related to Wills and Power of Attorney, including what they are, the difference between them, what happens when you don't have them in place, what is needed to complete the documents, probate, associated costs and fees, and more.
We are honoured and excited to have Carolyn J. N. Knight as our guest speaker to guide us through this topic.
More About Our Speaker:
Carolyn J. N. Knight 
Carolyn practises in the areas of real property, wills and estates law, and family law.
Her practice regularly involves the purchase, sale and financing of residential and commercial property. Carolyn's commercial real estate practice has an emphasis on the leasing of commercial and industrial property for landlords and business tenants.
Carolyn's wills and estates practice involves the development of estate plans ranging from the simple to those which are more demanding and complex, involving investment assets, real property and businesses. Part of Carolyn's practice includes estate administration and advising executors and beneficiaries.
Carolyn's family law practice includes the negotiation and preparation of marriage contracts, cohabitation and separation agreements, as well as collaborative negotiations.
There are limited spaces available so REGISTER NOW to avoid disappointment. 
 Looking Ahead (Mark your calendar!)
Session 2:
Tuesday, March 14, 2023 from 12:00pm -1:30pm
Conesnt and Capacity
Session 3:
Tuesday, April 11, 2023 from 12:00pm -1:30pm
 Housing and Tenant Rights
Session 3:
Tuesday, May 9, 2023 from 12:00pm -1:30pm
Home and Community Care Services
Session 4:
Tuesday, June 13, 2023 from 12:00pm -1:30pm
Elder Abuse and Fraud